(fredness), September 2000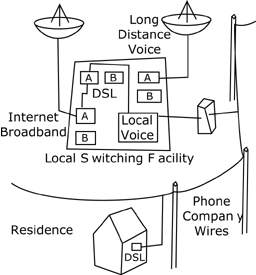 How many times have you heard someone whine about what is perceived as needlessly complicated setup for getting DSL installed at home.
The reason it seems so harsh to install is due to perception of value and how it is sold.
When I finally got my residence's DSL installed properly, it was incredibly easy to use and appreciate. It is this end state that makes it easy for those who sell the service to gloss over the tangle of bureaucracies and technical hurdles that need to be addressed to get service established.
DSL service installation is not like local phone service
DSL service is not the product of a single vendor. A traditional local phone service provider owns:

the wires to your house from the street
the wires and poles on the street
the sub-station block that the street wires are connected to
the trunk cables that connect the sub-station blocks together to the main switching facility of your local area code
the main switching facilty of your local area code

Therefore they are a single point of contact regarding any sort of failure with your local telephone service.
What is necessary for a DSL connection
DSL service is the result of several different vendors collaborating together. If there is a disconnect between any of these vendors, the service is compromised completely with virtually no indication of where the fault lies. The different vendors that need to work together are:

the billing company
e.g. Earthlink, AOL, INOW, ...
the local phone company
e.g. Pacific Bell, GTE/Verizon, ...
the 'DSL' provider
Northpoint, COVAD, ...
the network backbone provider
e.g. Megapath, ...

The third and forth vendors above are companies that most of us are not very familiar with. We are familiar with our local phone company. Yet the billing company (often a national brand name) may NOT have any local phone lines or DSL/backbone switching facility equipment to connect to as part of their service. Instead they merely act as a general billing coordinator to package up the services from each of the vendors that service your area.
This results in a very different installation procedure than would be expected for local phone service. Generally what has to happen first is the local phone company for your residence needs to install a new line or confirm that a extra line already is installed from the street. It turns out that phone companies almost always install extra wires to a house when phone service is first established (even if not requested to do so). Just because the wires are there doesn't mean they are actually connected to those in the street, or activated in the local neighborhood sub-station box. In summary the local phone company is responsible for completing a wire set from your residence to and activated at the sub-station box, then insuring that the substation box and your line are properly recognized at their main switching facility.
Next, the DSL provider needs to configure their special decoding equipment. This includes equipment at the phone company's switching facility and the 'magic' box (i.e. DSL modem) they install in your residence. This means the DSL provider is relying on the phone company to provide a path from your residence to the switching facility. If the phone company did their part, they have terminated your residence's wires not to their own telephone exchange equipment, but to a special area in their facility that the DSL provider has setup with the proper DSL de-coding equipment. In fact there may be several competing DSL provider areas in the same facility. Any misconfiguration between the phone company's switching facility and your DSL provider's equipment area will disable your connection.
Finally, the network backbone provider often has their own area at the phone company's switching facility. The network backbone provider supplies the link from the phone company's switching facility to the broad Internet. Note, no phone line coming into the switching facility would ever be connected directly to the network backbone company's equipment. The residential phone line needs to be decoded and translated into a computer network equipment compatible signal (i.e. passed through a DSL provider's equipment) before it can be fed to the network backbone provider's equipment. And like the DSL provider, there may be several competing network backbone providers' areas at your phone company's switching facility. Any misconfiguration between the DSL provider's and network backbone provider's equipment will disable your connection.
Even if everything between your residence and the network backbone provider is perfect, the network backbone provider may not have configured settings to acknowledge your data link. Additionally, periodic service outages upstream of your network backbone provider can also deny you service.
When all the vendors that make up a DSL connection are cooperating, fast easy to use Internet access is marvelous. However, this service can be compromised easily if only one vendor isn't cooperating. Furthermore, the human tendency for one vendor to blame another without doing due diligence can drag out the process of debugging an installation almost indefinitely. So if you are experiencing a DSL installation that is proceeding slowly, remember that you are not dealing with a single company. Expect delays.